BOB HOOVER'S STORY
R.A. "Bob" Hoover was an artist whose medium was airplanes and whose canvas was the sky. That is why General Jimmy Doolittle called him "The greatest stick and rudder man who ever lived."
He was a singular gift to aviation and the country he loved. Bob was inspired and driven by what he called, "The Unknown."
As a fighter pilot, as a military test pilot, and as a civilian test pilot and executive with North American Rockwell, he always sought the assignments that took him beyond previous limits. Why? To learn. To find safer and better ways to fly, to expand our understanding of aerodynamics, airplanes and ourselves as aviators.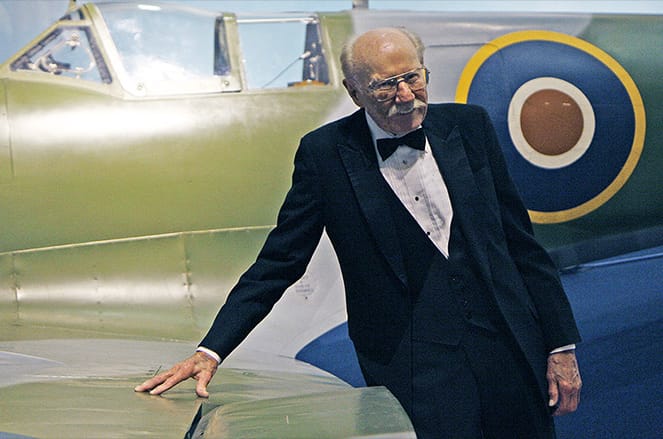 By age 18, Bob Hoover already knew how to fly and had taught himself aerobatics. As a member of the Tennessee Air National Guard, he was found to be so accomplished, he gave check rides to all of the flight instructors.
He was offered a set of wings and a flight officer's commission without formal flight training. However, the wings he would receive would not qualify him for combat. He refused the commission and volunteered for combat training. When he was shot down over the Mediterranean & taken prisoner by the Germans, Bob Hoover repeatedly tried to escape over the sixteen months of his captivity. Each time he was caught, beaten and placed in solitary confinement.
He never quit. He ultimately escaped, stole an enemy airplane and flew himself to freedom.
As a test pilot, the stories of Bob's determination to get malfunctioning airplanes back on the ground against all odds are legion. Though instructed to bail out of several flights, Bob believed that saving the airplane meant getting answers – answers that would save other pilots' lives and, in some cases, thousands of production jobs.
BOB HOOVER'S WAY
At heart, Bob was a teacher. He knew the things he had learned over the course of his singular career – often at great personal risk – would save lives.
Bob's need to know his own limits was ignited by his first flight. When he left the ground, he was horrified to learn that being airborne made him deathly ill.
Give up? Never. He began flying aerobatics on his own. He worked tirelessly to discover attitudes and maneuvers he could tolerate. He developed an unwavering standard: to fly more precisely and safely than he had the time before.
It was an ethos he passed on to everyone he flew with for the rest of his career. Bob Hoover never seemed to be in a hurry.
When you talked with Bob, he made you feel you were the only other person in the room. Nor did it matter to Bob who you were. Senator or janitor, CEO or cab driver, if the subject was flying, you were simply another fully franchised citizen of Bob Hoover's Sky Society. With Bob, kindred spirits became kin in short order.
Bob had a special message for young people: "Quit is the foulest of all the four-letter words." Perhaps that is because Bob Hoover's own life was an anthem of determination. From the age of 12 years old on, he did whatever he could to get the money to be able to fly.
Bob's message to children and teenagers never varied: "If I was able to do it, anyone can. You can realize your dream if you are willing to work for it."
He often said, "I don't think I was a better pilot than anyone else. I just tried very hard, every time, to do it to the very best of my ability."